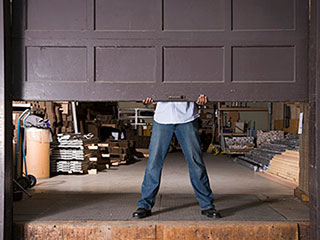 It happens, and it can be dealt with. Automatic garage door opener malfunctions are not uncommon, and as such knowing what to do about it is very beneficial. The first thing to do will be opening the door manually. After that is done, identifying and repairing the underlying issue will ensure that you will not need to open your door manually again for a long time.
Opening Your Door
The first thing to do will be to release any latches and locks holding the door in place. These will be on the outside of the door. Generally, the clasp will be attached to the house, while the locking part of the latch is attached to the garage itself. Opening it will free the door. Any locks on the inside of the door will also need to be opened. Some of these locks will slide on the bottom, while some will slide along the side of where the door opens. They must be kept completely open, or the door will not be able to open.
Next, pull on the string attached to your garage door opener. It will unhook the door from the opener, and you will be able to open the door as you please. Make sure to open the door the way it is supposed to by pushing it either out or up.
Making it Automatic Again
Automatic garage door replacement can concern either the whole door and opening mechanism, or it can concern single parts or the remote control. Make sure to have the appropriate parts repaired or replaced as soon as possible. In order to decrease the likelihood of having to open the door manually in the future, regular door maintenance will keep you up to speed on the state of your door.
One reason why a door may not open is a broken door spring. You will usually notice that this happens, as it makes a loud sound akin to a gunshot. If you have a broken spring, do not try to open the door yourself. The springs are subject to immense tension, and can cause serious and fatal injury if handled wrong.
Opening a garage door manually is not a difficult task, and it can be avoided entirely if proper maintenance is done regularly. Should it happen, though, one should make an effort to find out why the opener is faulty so that appropriate action can be taken.